Popular benchmarking service AnTuTu released its
yearly report
on Wednesday, noting that in its assessment, the iPhone 6s Plus and the iPhone 6s were found to be substantially more powerful than any of its competitors. In fact, the iPhone 6s (or the iPhone 6s Plus, since both are largely identical) is 41 percent more powerful than the
Huawei Mate 8
, the most powerful
Android
smartphone.
The version 6.0 of AnTuTu, which now supports cross-platform benchmarking, gave iPhone 6s a score of 132,620. Compared to this, the Huawei Mate 8 scored 92,746 while the Meizu Pro 5 had 86,214. The
Samsung Galaxy Note 5
had a score of 83,364, the Samsung Galaxy S6 Edge+ a score of 82,087, while the iPhone 6 found itself with 80,554 points. The OnePlus 2 could only get 79,747.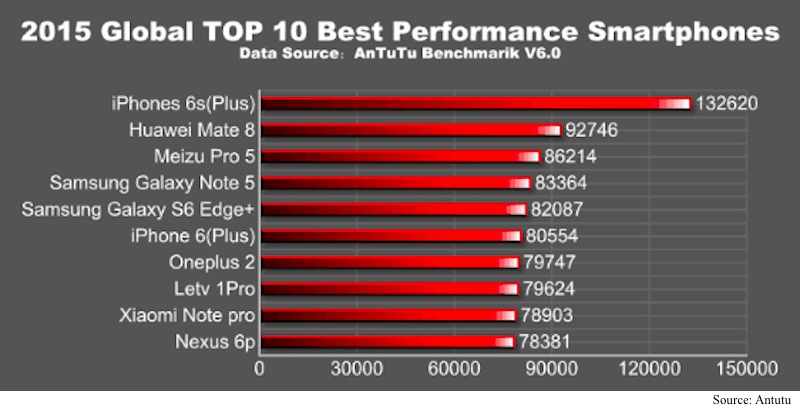 To understand why an iPhone has so much processing muscle, we must realise that it doesn't run Samsung's
Exynos
or Qualcomm's
Snapdragon
line of processors like most of the Android smartphones. Instead, the iPhone 6s has Apple's custom-made dual-core A9 SoC. To make things more amusing, the iPhone 6s Plus has 2GB of RAM, while many of the competitive Android handsets have 4GB of RAM. To note however, is that there are few cross-platform benchmarks available for both Android and iOS devices, making comparisons difficult in most cases.